Midget Mustang History
Designer David Long - Lockhaven, PA
In 1948 Dave Long, chief engineer with Piper Aircraft at the time, designed and built an all metal racer which he called the Midget Mustang. The public debut of the aircraft was at the 1948 Cleveland National Air Races. The closed course midget racers had a minimum weight of 500 lbs., minimum wing area of 66 sq. ft., fixed gear, at least a 6G structure, and the powerplants were limited to stock 190 cubic inch engines.
| | |
| --- | --- |
| The prototype Midget Mustang #67 was close in the competition, taking 2nd in the elimination heat. Engine problems caused Dave Long to drop out of the finals however. He went on to build a prototype production aircraft and had made an arrangement with Schweizer Aircraft to produce the design before his untimely death in 1950. The Midget Mustang is well known for its air racing legacy during the late '40s and early '50s. | |
Mens Los Angeles Rams Nike Charcoal Sweatless Jacket,Tampa Bay Buccaneers Logo
wholesale jerseys
Wire Earrings
In 1959 Robert Bushby purchased the rights to the design along with the tooling, formblocks, etc.. Some of these formblocks are still being used for the M-I bulkheads today. Bob began to sell prints for the M-I and as the demand for the aircraft increased material kits were offered for sale as well. Over the years the kits have expanded and improved so that today a complete kit can be finished in less than 1000 hours.
Very few major changes have been made to the Midget Mustang and it still retains it's original racing appearance. One option that has been added is the bubble canopy design. By lowering the turtledeck and installing a full sliding bubble canopy the little airplane has more of a military style appearance. Other modifications by builders include larger engines, full IFR panels, and additional fuel capacity. We have changed the control system to use pushrods for the ailerons and elevator. The Mustang II aileron is now used as well with a piano hinge attached to the top skin.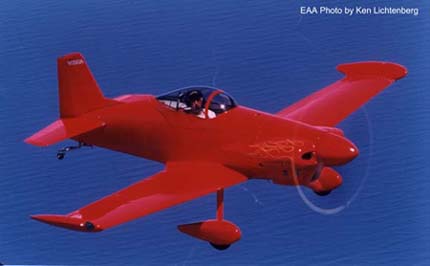 Close to 400 Midget Mustangs have been built around the world, most of which were constructed from plans alone without our current advanced kits. Four Midget Mustangs have been Grand Champion at the international EAA Oshkosh Fly-In. Over it's 50+ years the Midget Mustang has acquired the reputation as being one of the best sport planes ever. It's owners and pilots claim that it is the most fun to fly aircraft that they have ever been in. No other design on the market can match the Midget Mustang in experience and performance.